Training
National Missionaries!
There are hundreds of young men who wants training in Bible because of their call to serve the Lord. The Redeemer Bible College, which is a part of the Baptist Missions Center was established in 1998. Since then the Bible college has trained hundreds of men with a three-year degree. These men, after the training, are sent out to win souls and plant churches. This method of training is very effective since they have planted many churches. Hundreds of testimonies are shared with our trained men whom the Lord used and is using them on the field.
Why we need to train at all?
1. The Call. Many are called to share the gospel to others who are either not aware of the goodness of God, or who ignore Christ and assume that He is nothing but another "god" in three hundred and thirty million gods and goddess. These men are passionate to serve the Lord because of what the Lord has done in their lives - He changed their lives, saved them from eternal damnation. These men want to share that experience with others, specifically what the LORD has done to them.
We believe that Experiential Apologetics plays a great role in one's ministry. The salvation experience will have no value if one is not encouraged to share his or her life-changing experience they have experienced because of God's involvement in their lives.
Therefore, we not only encourage men and women to share their testimony but also train men so that they would be well prepared in order to answer pragmatic questions and life issues that one may ask them. It is common for most Bible College students to be ridiculed for their belief. Many other religious people would question their knowledge in the Bible. If one does not present himself with answers, then they would insult him. The main point here is not being insulted, but not being prepared might put the men in a situation where the "questioners" might not believe in Jesus. We want to prepare men where they can share the gospel boldly and be prepared to answer questions they might face.
If one is called to preach, to teach, to become a missionary, who are we to be an obstacle to accomplish what the Lord has called them to do? So, we provide training, not to everyone, but to a limited number of students every year.
2. Culture and Language. This is one of the primary things why we need to train "national" missionaries. The effective way to do ministry is to send the nationals to the nationals. They know the culture, they know the language - which are two major barriers to any foreign national. In training nationals there is a great advantage. They know when and how to approach someone with the Gospel, and they know when NOT to approach someone.
Learning culture and language takes much precious time from reaching out men and women with the Gospel. In India, we have thousands of dialects - no way of one learning all those dialects. Therefore, it is wise to train nationals who are able to communicate the message of Christ without cultural or language barriers.
Because of these two major concerns, the Redeemer Bible College trains young men and send them out to plant churches.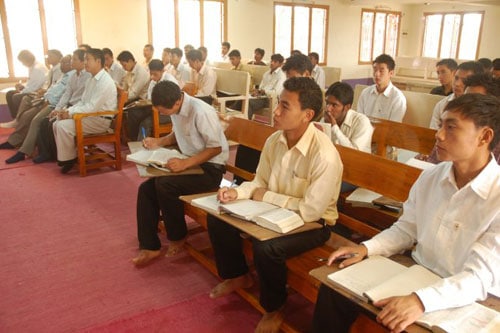 How can you help?
Pray! 
Please pray that the Bible College will train more men so that God will receive the glory through their ministry in winning souls to the Lord and planting churches.
Support! 
The Bible college runs on the gracious gifts received by God's people. We ask that you please consider supporting a student. God is the source of our ministry; He uses His people to support His work. Training young men is for His sake, for the expansion of His Great Mission. We pray that you will be a part of this work by sponsoring a student.
Teach at our College!
Come visit our college and teach to our men!
If you have a desire to teach the Bible, help train the young men, be a part of the training process, please come visit us, stay with us and teach to our men. We would love to have you train our men! If you are interested, please contact us for further details!
Share about the ministry to your friends or churches! 
Please share a word about our work in your churches and to your family and friends.